TREATMENTS
Composite Fillings – Crowns – Dentures – Extractions – Gum Disease – Jaw and Facial Pain – Root Canals – Sealants – Wisdom Teeth
Dentures
Full and Partial Dentures in Keene, NH (New Hampshire)
Millions of people replace their missing teeth with dentures. A full or complete denture replaces all of a person's teeth, while a partial denture will clasp or "hook" onto remaining teeth while replacing any number of missing teeth.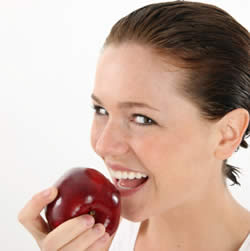 Success with dentures depends on the skill and knowledge of your dentist. Dr. Alan Ross has been fabricating and fixing dentures for over 30 years. This experience and compassionate care can help you avoid or deal with the many challenges of wearing dentures.
The fit of a denture or partial is dependent on the "foundation" or gum tissue that the denture base will rest upon. If the "foundation" structures of your mouth are less than ideal, then there are possible procedures and alternatives that Dr. Ross will be able to explain and present to you.
Dr. Ross is also an expert in helping remedy or improve many of the following denture problems:
Wobbly or loose dentures
Poor appearance or un-natural smile
Difficulty with speech
Food collecting under and around dentures
Gagging
Soreness
Cheek biting
Trouble chewing foods
Denture teeth that click or make noise while chewing
Sensitive or partial gums
Dr. Ross believes that denture service is a two-party operation that requires a great deal of understanding and cooperation of the patient. He will work with you to make sure you understand your specific situation and all of your choices.