Children's Dentistry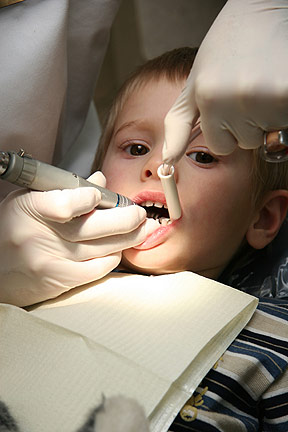 Dr. Ross enjoys treating children of all ages.  We have created a positive experience that we call "The Happy Visit" in order to ensure that your children get off to the best possible start to great dental health.  The visit is made fun and interesting with a children's section in the reception room stocked with toys and a treasure chest.  The treatment rooms are equipped with TV monitors allowing your child to watch their favorite channel while we attend to their dental health.  Dr.  Ross uses a show and tell approach that explains what is happening in words that fit a youngster's vocabulary.  An X-ray machine is a "camera",  the suction is "Mr. Thirsty",  the drill is "a tooth cleaner or fire engine that whistles and squirts water".
What should I tell my Child about seeing Dr.  Ross?
Tell your child that Dr. Ross is a friendly dentist who will help them stay healthy.  Talk about the visit in a positive, matter-of-fact way, as you would about any important new experience.
First Visit DOs
*if possible familiarize your child with the Dental Office.  Take your child along when a sibling, friend or other family member is examined.  Let your child meet Dr Ross and observe the low stress, friendly environment.
*Play "Dentist".  Count your toddler's teeth as you shine a flashlight on them.  Then switch roles;  let your child play the dentist and look in your mouth.
*Read your child a book about going to the dentist for the first time
*Allow  plenty of time to get ready on the day of the appointment so you won't have to rush your child
*set a good example by brushing and flossing your own teeth thoroughly everyday and by seeing Dr. Ross regularly.
*Let Dr. Ross decide whether you should accompany your child into the treatment room.  Some children respond better without their parents present.
First Visit Don'ts
*Don't use a dental visit as a punishment
*Try not to communicate your own fears and anxiety to your child.  Fearful or anxious  parents should remain in the waiting room and allow your child to go into the treatment room alone.
*Avoid saying negative words such as hurt, shot, pull, drill, scrape etc.
*Don't let anyone tell your child scary stories about dental visits
Why Should I take my Child to the Dentist?  The baby teeth are going to fall out anyway.
Your child's first set of teeth, the primary or 'baby' teeth are extremely important. Good general health, complete chewing of food and proper digestion, proper and clear speech,  and  appropriate appearance  is dependent upon these primary teeth. A diseased or broken primary tooth can cause severe pain and infection just like an adult  tooth.   A primary tooth that is extracted or lost too early can result in tilting and crowding of the permanent teeth.  The adult second set of teeth rely on these first teeth as guides or position holders.
At What Age should my child first see Dr. Ross?
Ideally, it is best to take your child to Dr. Ross between six and 12 months of age.
As soon as your child has several teeth, it is a good idea to schedule an appointment.
How often should my child see Dr Ross?
While there is no set rule,  it is generally recommended that children visit the dentist every six months.  More frequent visits may be needed depending on your child's eating habits, how effectively they clean/brush their teeth, and the relative strength or condition of their teeth.
Preventive services such as fluoride treatments and sealants are less costly than fillings, crowns, and other treatments that your child may need if the teeth are neglected.  Regular visits to Dr Ross can save time, money and prevent discomfort.
What will happen during my child's first dental visit?
Dr. Ross or the hygienist will gently examine your child's teeth and gums, for tooth decay and other problems.  Xrays will be taken only if absolutely necessary.  Your child's teeth and gums will be professionally cleaned and important preventive home care skills will be instructed in a friendly but hands on manner.