To keep our costs low, all services performed must be paid for in full at the time of service. As a courtesy to you, we will bill your Dental Insurance Company and have the reimbursement check sent directly to you.
Once we complete the examination, we share our findings with you and together we come up with a plan. The plan is always customized and shaped in accordance to your desires and budget. We make an agreement as to what your dental treatment will entail and everything is given to you in writing. We will also arrange a payment plan so you'll know what your treatment will cost and what the payment arrangement will be.
We accept Visa, MasterCard, American Express, and Discover.


CareCredit Financing Available
We're pleased to offer our patients CareCredit, North America's leader in patient payment plans. CareCredit lets you begin your treatment immediately – then pay for it over time with low monthly payments that fit easily into your monthly budget.
Like a credit card, but better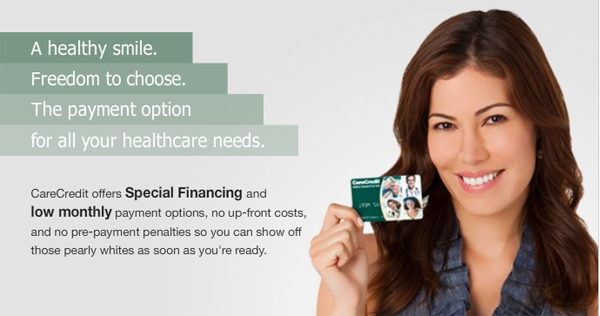 CareCredit works like a credit card, but is exclusive for health care services. With no up-front costs and no pre-payment penalties, CareCredit lets you pay over time and frees up cash and credit cards for the other things you want or need. CareCredit offers low monthly payment plans for health care procedures not commonly covered by insurance, including dental treatment. Plus, you can use your card again and again to pay for additional treatment for yourself or family members in any CareCredit practice.
Low minimum monthly payments
No up-front costs or pre-payment penalties
Learn more by visiting CareCredit.com or contacting our office.
Ready to apply? Apply online for your CareCredit card today.
You'll be smiling bright in no time.

ChaseHealthAdvance Financing Available
Your health and emotional well-being starts with a smile you're proud to show off. At ChaseHealthAdvance, our no interest and extended payment plans make it easier to get that radiant smile you've always dreamed about.
Financing highlights
No interest payment plans for 3, 6, 12, 18 and 24 months
Extended payment plans up to 48 months
Revolving lines of credit starting at $5,000
No down payment, plus instant credit decisions with no application fee
Change your life with a smile that lasts forever.